How to use VoiceLab
Insert a new "Creation", select a pre-defined "Sample", or record one your self in the creation tab, or use the wizard to do the same. Add effects to create the perfect Ringtone, or any sound ready for playback in the Play tab.
If you have an iPhone 1G/3G/3GS you can also play Creations to people calling you. Just prepare some Creations to get rid of annoying phone sales people, or your closest friends, and wait for them to call you. Enjoy your Creations during a call, by entering Speaker phone mode, press "Home", and start this App. Tap a background noise if needed, then tap the Creation you want to play, let it play, then hangup the call. You have to hold your hand under the phone, so that the mic can record what is played in the speaker.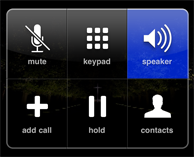 ---
In the "Live" tab you can play around with the effects in real time, to amuse the people around you. Works best with a (shared) headset connected, otherwise speak to the phone, and let it repeat back to you what you just said, with the effects of your choice.
---
To create a Ringtone, prepare a Creation to your liking, and push the mail-button. If your phone supports the creation of a ringtone (iPhone 3GS/4), you can choose Ringtone instead of the pre-selected default format WAV. E-mail the Creation to yourself, double click the attachment when you receive it from your phone on your computer, which should open iTunes. Then sync your phone, and the Ringtone can be selected in the Settings application. If the double click-method doesn't work, save the file, and drag it onto iTunes, to add it to your library. Then sync, and the Ringtone can be selected in the Settings application. Please note that iOS email must be configured.
Acknowledgements
Some of the icons by Joseph Wain / glyphish.com
Sounds borrowed from the 'net:
White noise - Radio static, fairly bland white noise, but... by Incarnadine
City noise - Recorded with a Zoom H4 at street level in New... by gezortenplotz
Birds - A 55 sec clip recorded at dusk by the river... by acclivity
Travelling on the London Underground for a... by Koops